Wireless Bluetooth
Wireless Bluetooth Indicator has smart wireless connection. It is connectable to most Bluetooth enabled devices like smart phones, tablets, notebooks or desktop computers. Press the Data button to output measure data to most writeable apps or programs.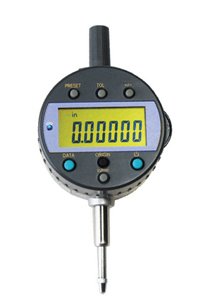 Features
Absolute encoding
Origin setting
Preset Value
IP54
Inch/mm
High Contrast LCD Display
Face Rotation up to 330°
Carbide tip
Battery: 3V, CR2032
DIGI-MET® Electronic
DIGI-MET® Electronic Indicator is a sophisticated non-contact linear measuring system that can be connected to any computer or printer with no interface necessary. Featuring .00005" (0,001mm) Resolution with ±.00012" Accuracy; Repeatability: 0,003mm/.00012".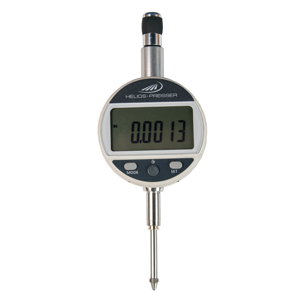 Features
AGD Group 2, 8mm stem with 3/8" bushing adaptor.
Rugged polyamid housing
Stainless shank and spindle
Tracking speed: 60"/speed
Display rotates 270°
Top lifting knob
Measuring force: 0.6-1.1N
Low drain lithium battery: 4500 continuous on time for 2-3 years with on/off switch